どつかるとハイハイしちゃうエプロンとペアのC-stringのセットは、
Valentineのネタアイテムとしてオススメ。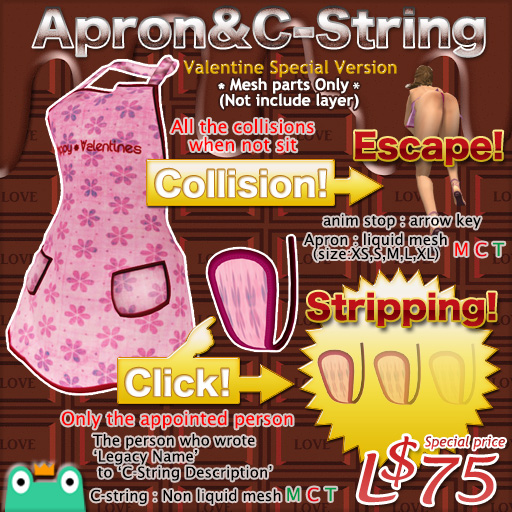 * Mesh part Only (Not include layer)
✪✪✪✪✪✪✪✪✪✪✪✪✪✪✪✪✪✪✪✪✪✪✪✪✪✪✪✪✪✪✪✪✪✪
✪ liquid mes [Apron] Valentine Special Version
✪✪✪✪✪✪✪✪✪✪✪✪✪✪✪✪✪✪✪✪✪✪✪✪✪✪✪✪✪✪✪✪✪✪
All the collisions when not sit.
Anime is reproduced by collision.
Anime stop is arrow key.
Size: XS,S,M,L,XL
Modify NG
Copy NG
Trans OK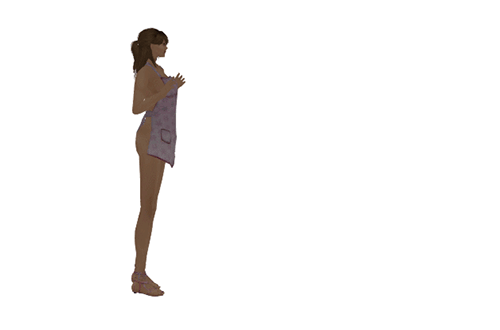 ✪✪✪✪✪✪✪✪✪✪✪✪✪✪✪✪✪✪✪✪✪✪✪✪✪✪✪✪✪✪✪✪✪✪
✪ Non liquid mes [C-String] Valentine Special Version
✪✪✪✪✪✪✪✪✪✪✪✪✪✪✪✪✪✪✪✪✪✪✪✪✪✪✪✪✪✪✪✪✪✪
'C-string' Click is transparent.
However, Only the appointed person(*).
*The person who write 'Legacy Name' to 'C-string Description'.
ⓞThe method of a setup of a 'Legacy Name'
(1)C-string Rez
(2)Right-click and edit.
(3) Write 'Legacy Name' to Description of a General tab.
(4)C-string Take
(5)C-string Wear (use is possible)
—————————————-
ⓞAbout 'Legacy Name'
Legacy "FirstName LastName"
Modern "FirstName Resident"
※Cautions
Don't write your(object Owner) 'Legacy Name'.
—————————————-
ⓞIn order to return so that it may be visible, an owner needs to click C-string.
—————————————-
Modify OK
Copy NG
Trans OK